Refrigerated Transport Services In Dubai - UAE
If you're searching for refrigerated transport services in Dubai or anywhere in UAE, you've found the right place. We at Dubai Truck offer advanced refrigerated truck rental services in Dubai and all over UAE. Dubai Truck Company is the first port of call in, Dubai, Abu Dhabi, Sharjah, Ajman, and Ras Al Khaima, for any type of rental chilled and cold transport. Whether you need a refrigerated vans or a delivery van.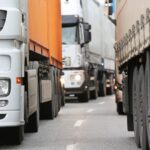 Get connected with Dubai Trucks and check out our social channels to keep up with the latest Updates.
Read Our Latest Blogs Here
"The dispatchers and the customer service reps have proven to be very truthworthy and customer oriented."

"Bottom line I would recommend them to anybody looking for great rates & no excuses get it done service."

"They have knowledge of all permits you need, and it was a one stop shop for all my company needs. Definitely recommending them to all my family & friends who looking for refrigerated transport."

"Very nice and friendly staff wat a great service they provide."